Top Games

Escape Goat 2 (PC/Mac/Linux, 2014, MagicalTimeBean)
Escape Goat 2 is a puzzle platformer game where you use machinery, the environment, and a friendly mouse to progress through a dungeon. I did all the art for this game. It was a ton of fun to work on a game done in the style of classic 90s gameplay, but refined with a modern touch, where the whole level is a giant physical space for puzzles and action to occur.

Buy it now on Steam! (Metacritic page)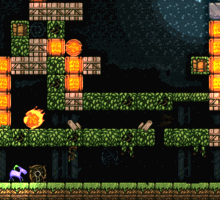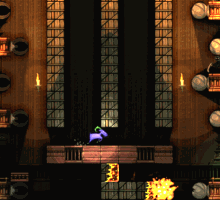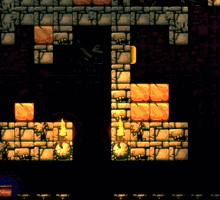 Waking Mars is a one-of-a-kind adventure in which you jetpack through subterranean Mars encountering a host of extraordinary alien lifeforms that operate as a living, breathing ecosystem. Learn and master the behaviors of these creatures to create ecosystems of your own design if you are to survive and discover the secrets of Mars' past.

Buy it now on iTunes! (Metacritic page)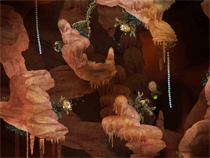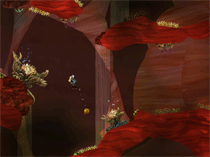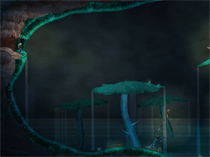 Distractions (iPhone/iPad, 2013)
An app containing ongoing design experiments. These are basic touch-controlled high scoring minigames. No guarantees of fun, just a place for me to exercise my brain, and perhaps those of the player.

Download it now

Dead End HD (iPhone/iPad, 2011)
A simple to play but difficult to master one-button game available for iPhone and iPod touch! It's all about the zombie apocalypse, you try to control Harold, a man scared out of his wits. With your guiding finger, perhaps you can keep him alive long enough to outlast the end of days!

Check it out on iTunes, (Watch the trailer!)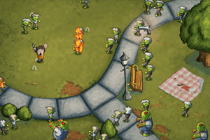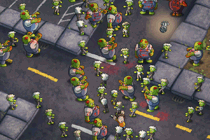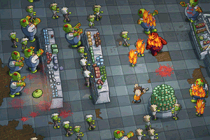 More Games

E.R.C.K [Exploratory Rover Colonization Kit] (Web, 2013)
NASA hosted a game jam, and this is what I came up with. A challenging strategy resource management game where you start with limited resources, and fight to gain enough active energy to initialize the colonization kit. Done from scratch in Unity in about 20 hours of coding.

Play on Kongregate!

An awesome game of matching math for iPhone and iPod touch. This clever game has you flicking toad tongues out to catch bugs while also paying attention to what you eat so you can get the highest score. I made this with a couple of friends under the moniker Phoolish Games. Check it out, I think you'll enjoy it!

Buy on iTunes for only a dollar!



Spider: The Secret of Bryce Manor (iPhone/iPad, 2009, Tiger Style Games)
Spider has been praised for its beautiful style and is considered one of the best iPhone games ever made. I was asked to join near the end of development to help create a bunch of levels still needed for Tiger Style's debut iPhone game. In addition I took care of various other art tasks, such as designing the logo and much of the interface art.

Check it out on iTunes! (Metacritic page)



Sarajevo (Web)
This experimental game is still very much a work-in-progress, but I want to put it up because it is my first real effort at a serious piece. I was inspired by recently learning a lot about the siege of Sarajevo in the 1990s and the effect that such a tragic event had upon the populace of a large modern city. To recognize its power and the powerlessness of the civilians of Sarajevo. I can only hope it conveys even a small fraction of the tension of living as a civilian, trapped in a war.

Play it now

Hoppin At the Avocado Condos (Web, 2005)
A game made as viral marketing for an indie movie but which was never picked up. I've altered the original content enough so that you have the chance to play. It was my first Flash game, a great challenge, and a very satisfying product.

Made entirely by myself, sans the saxophone sound clips, which were played by my good friend Adam Windram.

Play it at: Kongregate
Even More!

Sapphire Seeker (iPhone/iPad, 2012, Sunboyd Games)
I was the main artist on this puzzle game that combines a lot of little trivia/puzzle games with an Indiana Jones style theme.

Check it out on iTunes!

Enter a world of your own making as you build a town up from scratch and populate its houses shops and restaurants with your friends! This Facebook game allows you to do just that, all with an adorable visual style I helped to define. I set the look for this game, devised the production pipeline, and built many of the buildings you will pay fake money and real money to add to your virtual town.

Unfortunately, this game is no longer available. :(

Race as quickly as you can through large open levels before time runs out, but have your spear ready to joust enemies that might stand between you and your village. With the engineer on this project I developed a level-creation system in Maya for this physics-based game built in Panda3D and then utilized it to create 2 full levels for this game, made at MIT's awesome GAMBIT Game Lab!

Experience the fun at: GAMBIT Games: Moki Combat 2.0

The Beat (PC, 2009)
Made in 48 hours (excluding sleep, 32 hours), I helped to design and create art and animation for this game, which was part of the Global Game Jam 2009 at MIT's GAMBIT Game Lab. A super-fun and hectic experience, two coders, two artists, and one part-time sound guy crafted this zany co-op rhythm game where you have to guide your 1950's blob back to its mothership while dodging lasers and swallowing scientists.

Download it now: The Beat
Guide super-scientist Harold Biggums through a world of molecules and evil Nanoids in this educational sidescrolling Flash game. Use mass to your advantage in this world where enemies are so light they cling to the ceiling through molecular attraction. I was the programmer on this game in which we were hired to teach grade-schoolers about van der Waals force in a fun and intuitive manner.

Read about it: Center for High-rate Nanomanufacturing

Zenix3D (PC, 2007)
Blast space bugs to flashy tunes! In this fast-paced shoot-em-up, fly and dodge through colorful space as you try to survive and get the highest score! I created the various 3d models used in the game and did some promotional material.

Now go grab it for free! Zenix3D