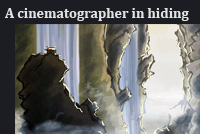 I love a good picture.

You know, like, a really awesome picture. And once in a while I try to create one. I get closer every time, and so I just keep trucking on through the days, weeks, and years.

The framing of life, that's what artists do. We focus your attention on the details of the world that we find important. Whether they be hilarious, sad, informative elements of this universe, we want you to see what we see, to care about the same stuff. I hope my work frames the parts of life that show the wonders of the universe and how lucky we are to exist.

There are many different mediums for beautiful art, but I mostly choose the computer; primarily for the power of Ctrl+Z and because I can construct sculptures without getting coated in clay.


More images on the internetz.